Laurence Laver BSc(Hons) MBA CMILT MInsTA
Background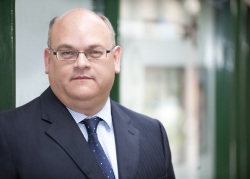 Laurence began his career in distribution behind the wheel working his way through a variety of driving jobs. His transport management background is through Regional distribution in the South West, nationwide distribution and general haulage based in Reading and distribution solution development and management in Oxford. He has also undertaken interim assignments with Transport for London and Spicers Stationery.
He has significant practical experience of managing blue chip customers and their demands for high levels of delivery and cost reduction performance. Laurence has an MBA from Henley Management College, an honours degree in Transport from the University of Plymouth (2:1), National and International certificates of Professional Competence in Road Haulage Operations, completed Unipart's Six Sigma Greenbelt training and is a Chartered Member of the Institute of Logistics and Transport (CMILT).
Laurence's MBA dissertation undertook original research on road freight company behaviours and made recommendations to improve Corporate Social Responsibility and business performance in Road Freight Transport. Download a copy here
Particular areas of expertise include:
Operations Management
Account Management
Project Management
Distribution Audit
Continuous Improvement
Supplier performance benchmarking
Key experience
Laurence has worked Transport and Distribution for nearly 30 years. He has experience routing and scheduling vehicle fleets, managing people, both drivers and office staff. He has extensive knowledge of Carriers and their capabilities especially within general haulage and palletised freight movements. In his time he has managed distribution contracts with Coca-Cola, Rank Hovis, Black and Decker, LG Electronics, Gillette, Esselte Office Products, Unipart Automotive, Jaguar Cars and John Lewis which included the management of all the major third party players in the market including UPS, TNT, Business Post, Nightfreight and Target.
Projects undertaken include:
Implementing Home delivery solutions
Managing tender processes
Remodelling distribution networks
Remodelling Primary trunking networks
Supplier Benchmarking exercises
Developing Reporting and legal compliance frameworks